Apply for a U.S. Visa
in Romania
Applicants Under 14 and Over 80 Years of Age
On this page:
---
---
Overview
Applicants under 14 or over 80 years of age may not be required to attend an interview, but must still submit a complete application.
Qualifications
Applicants who are over 80 years of age;
or
Applicants who are younger than 14 years of age and have a parent with a valid visa.
You are not eligible to mail in your visa application if any of the following criteria apply:
Your last valid visa was canceled or revoked;
You lost your previous passport that had a valid or expired U.S. visa;
You have been refused a U.S. visa since your most recent visa was issued.
Supporting Documentation
Prepare the following documents and send them by courier to the Embassy:
A current, valid passport;
Any passports containing previously-issued U.S. visas;
A Nonimmigrant Visa Electronic Application (DS-160) confirmation page. Visit the DS-160 webpage for more information about the DS-160;
One 2"x2" (5cmx5cm) photograph taken within the last six months. This web page has information about the required photo format;
A receipt showing payment of your non-refundable nonimmigrant visa application processing fee, paid in local currency. This web page has more information about paying this fee.
For applicants younger than 14:
o A photocopy of the valid visa(s) and a copy of your birth certificate.


Please note that the adjudicating consular officer may still request an interview based on the specifics of an application.
How to apply
Step 1
Complete the non-immigrant Visa Electronic Application (DS-160) form and print out the DS-160 Confirmation Page with bar-code.
Step 2
Log-in to our online applicant system and create/update your profile to pay the visa application (MRV) fee. Once logged in, choose "New Application/Schedule Appointment", select "Nonimmigrant Visa" and then "Continue". You will select the visa category; you will provide passport information, the DS-160 Application ID, contact information and the address for passport delivery.
Step 3
As you go through the process you will answer the questions which will evaluate your eligibility for the Interview Waiver. After you answer the questions, you will be prompted to enter an address where you want your passport and visa to be delivered and prompted to pay the visa fee. If qualified for the Interview Waiver, you will receive detailed instructions of how to deliver your documents. You will need three pieces of information in order to register online:
Your passport number;
The receipt number from your payment receipt. (Click here if you need help finding this number);
The ten (10) digit barcode number from your DS-160 confirmation page.
Make sure you select how you choose to have your passport with visa delivered. Information regarding document pick up is available on this page.
IMPORTANT! You must print out the Interview Waiver Confirmation Page and send it to the Consular Section along with the other documents. If we do not receive the Interview Waiver Confirmation Page, we will not be able to process your visa application. This is how the Interview Waiver Confirmation Page looks like: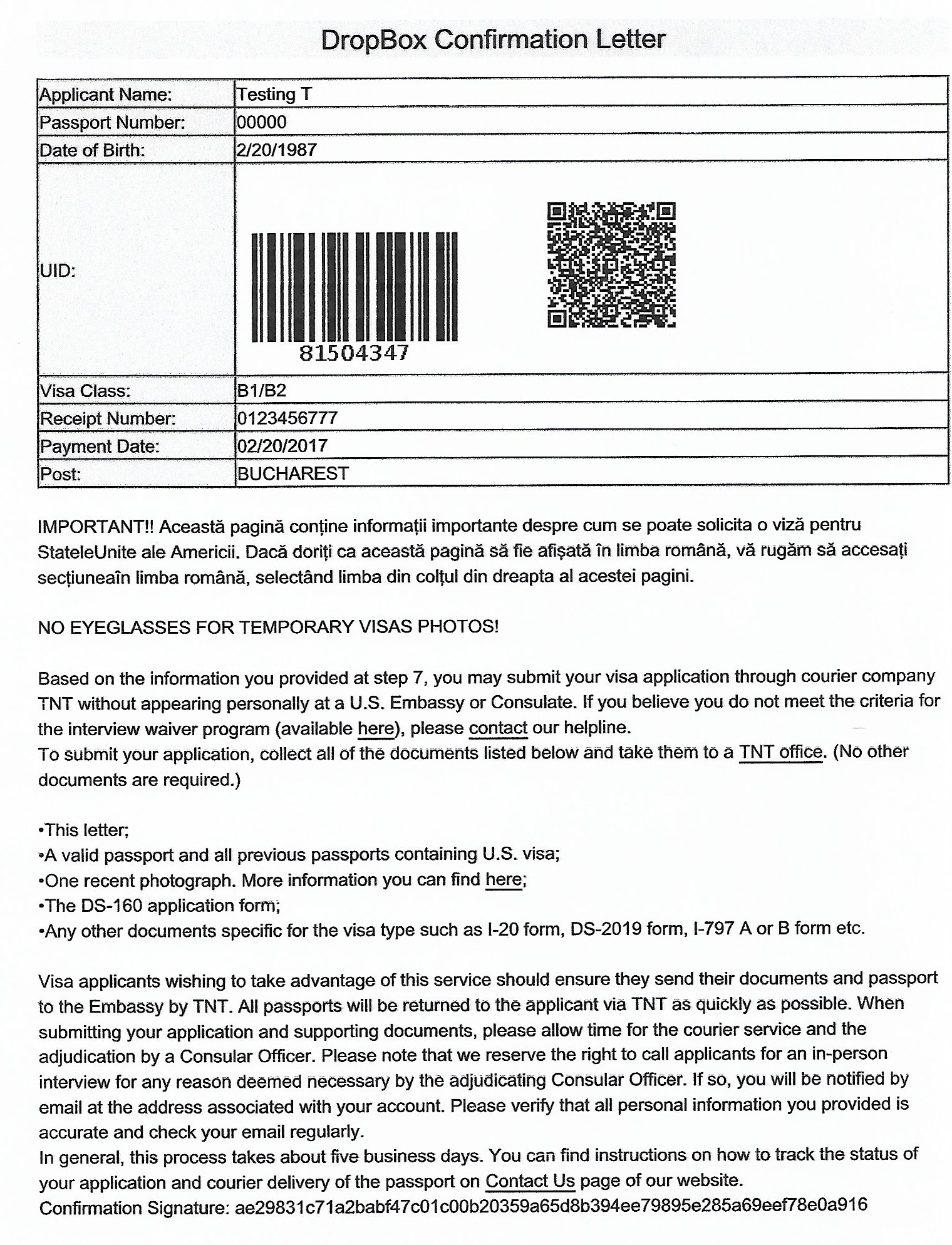 Step 4
Gather your DS-160 confirmation page, current and previous passports, a recent photo and your Interview Waiver Confirmation Page and the bank receipt/proof of payment.
Step 5
Visa applicants wishing to take advantage of this service should ensure they send their application and supporting documents to the Embassy.
Information on how to submit your documents, please visit this page.
Step 6
At the end of the visa adjudication process, FedEx will return your documents and your passport to you at the chosen document delivery address in your profile. You can change the delivery address by accessing your profile. If issued, your passport will contain your visa.
Once we receive your application package, a consular officer will make the final determination whether you qualify for visa issuance without a personal interview. In such a case, your visa will be issued and your passport containing the visa will be returned to you. Processing time takes around 5 working days.
Should an officer determine a personal interview is required, you will receive a visa interview appointment letter via FedEx.