Apply for a U.S. Visa
in Guatemala
Apply for an Emergency Appointment
On this page:
Overview
If you have an unforeseen travel need as per one of the criteria listed below, you may qualify for an expedited appointment depending on availability at the Embassy. It is important to ensure you meet all the criteria, because applicants are only allowed to create one expedited appointment request.
Qualifications
Before you apply for an emergency appointment, you must ensure that you have documentary evidence to prove the urgency. If it appears during your visa interview that you misrepresented the reasons for urgent travel, such facts will be noted on your case file and may adversely influence the outcome of your visa application. All applicants requesting an expedited appointment are required to first pay visa fees for a regular visa appointment.
Note: Travel for the purpose of attending weddings and graduation ceremonies, assisting pregnant relatives, participating in an annual business/academic/professional conference, or enjoying last-minute tourism does not qualify for emergency appointments. For such travel, please schedule regular visa appointments well in advance.
The following purposes of travel are considered for expedited appointments:
Medical Emergency:
You need to obtain urgent medical care in the U.S.
You need to accompany an immediate family member who requires urgent medical care. (Immediate family members include spouse, mother, father, brother, sister, or child).
An immediate family member in the U.S. has a serious medical condition and requires your presence urgently.
Medical professionals who intend to work or perform medical research in the United States under the J-1, H-1B, or O-1 visa classifications:
You need to apply for an exchange visitor visa, and your appointment date is after the beginning of your classes or exchange program.
You recently received your I-797 approval notice, and the petitioner requires your immediate presence.
When scheduling an interview for this purpose of travel, please select the "Medical Specialties" visa category.
H-2 Visas
For instructions on how to apply for H-2 temporary employment visas, please follow the instructions here.
Applying for an Emergency Appointment
WARNING!
You will only be able to send an expedited request from an applicant profile. If an applicant requests an expedited appointment from a travel coordinator profile or from a profile created using an email that is already in use by another profile, the applicant will NOT be permitted to schedule an expedited appointment.
If you need help with your visa application please contact our call center:
From Guatemala: 2376-1978
From the United States: (703) 745-5477
Via email: support-guatemala@ustraveldocs.com
Please click on this link for printable step-by-step instructions in PDF form.
Step 1:
If you haven't already, please complete and submit your visa application (DS-160 form). If you have already paid a visa application (DS-160 form), please proceed to Step 5.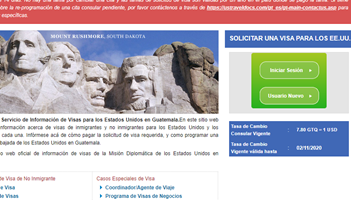 Step 2:
Create a profile http://cdn.ustraveldocs.com/gt
Step 3
Pay the visa application fee
Step 4
Schedule the first available appointment in your profile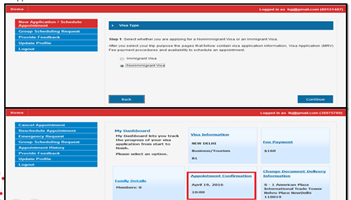 Step 5
Go back to your profile.
After the appointment has been successfully scheduled, there will be an "Emergency Request" menu item shown on the left of your screen, submit the expedite request form.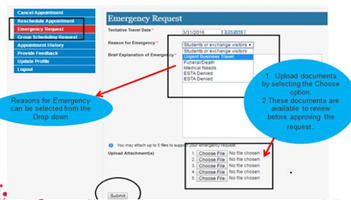 Step 6
Wait for the decision.
After you submit the request, please wait for a response from the U.S. Embassy or Consulate, which will arrive via email generally within 1-2 business days.
Step 7
Login back to your profile
When your expedited appointment request is approved, it does not mean that your appointment has been rescheduled. You will receive an email notifying you to log in again and reschedule your new appointment to an earlier date. You will notice that your interview appointment is still the same. Select the "Reschedule Appointment" menu item on the left.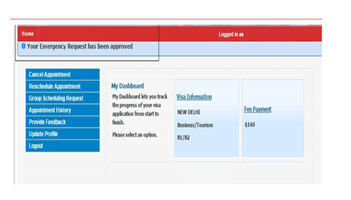 Note: The email confirming or denying your request will be sent from the address no-reply@ustraveldocs.com Some email apps have regulations that filter out unknown senders by sending them to a spam or junk folder. If you have not received the notification, look for the message in your spam folder.
Step 8
Schedule the expedited interview
After the old appointment has been properly cancelled, you will be able to schedule the new appointment on the approved expedited date. Select the "New Appointment" menu item on the left side. Then select your visa type and review your application information again. When you reach the visa payment page, click "Continue" (the system will recognize that you have already paid the visa application fee).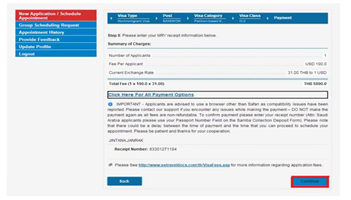 You will be able to see available appointment times that correspond with your approved expedited date. Select the date and time that the Embassy or Consulate approved for the interview then click "Schedule Appointment".
Step 9
Attend the Embassy of the United States on the day and time of your interview. You will need to bring a printed copy of your appointment, your DS-160 confirmation sheet, a photograph taken within the last six months, your current passport and all previous passports, and the original receipt for payment of the visa fee. Applications will not be accepted without all of these elements.